There are many fine accommodations in Loup County for a weekend away or even an entire week getaway. With the Calamus Reservoir minutes away from most lodging you will be sure to find plenty of entertainment. Interested in doing some camping? Click here for our RV Camping Locations.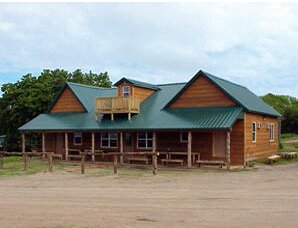 Calamus Outfitters
Let the Switzer family be your hosts as you make lasting memories on a true working ranch. Calamus Outfitters has two beautiful lodges that can accommodate approx. 20 people each as well as four rustic cabins that can each accommodate up to 6 people. Lodges each have 5 private rooms with 5 private baths, common area and full kitchen. Cabins have a ¾ bath and kitchenette. All linens are provided along with many other modern amenities to make your stay comfortable. Located just off Hwy 96 on the Calamus Reservoir.
Calamus Outfitters is a provider of great outdoor recreational activities and events including a Prairie Chicken Festival, river adventures, bird watching, hiking, and hunting. Ranch and birding tours of the Switzer Ranch and Nature Reserve are also available.
For more info go to www.calamusoutfitters.com or call 308-346-4697.
Bromwich Canyon Lodge
Bromwich Canyon Lodge, LLC is open year round and is the perfect getaway destination for couples and families. Settle into the warmth and charm of this beautiful secluded country lodge and take pleasure in the unadorned simplicity of quiet country living. Our accommodations include 2 bedrooms on the main floor with queen size beds and 2 bedrooms on the upper level with full size beds, a sleeper sofa and full size futon are available for extra guests. All bed linens are provided.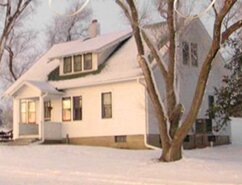 To make reservations please contact Max & Debbie Emerton and be sure to check out the Bromwich Canyon Lodge website:
http://www.bromwichcanyonlodge.com

Home: (308) 942-3493 (308) 942-3493
Cell: (308) 214-0704 (308) 214-0704
Crest Motel
The Crest motel is a two-unit motel located one mile south of Taylor, just south of the Corner Stop Gas Station and Convenience Store on Hwy. 183. Each of our clean and comfortable rooms has a double and a single bed, central heating and AC, and dish network TV. There are no pets or smoking allowed in the rooms.
To make reservations contact Tracy or Suzanne Kraus at 308-942-3430.
Gracie Creek Cabin
The Gracie Creek Cabin is a fully furnished 6-bedroom vacation home overlooking the Gracie Creek pond as it flows into the Calamus Lake. With 2,300 square feet on 5 acres, you'll be right at home while enjoying the many activities in the area as well as the incomparable serenity of Nebraska's Sandhills.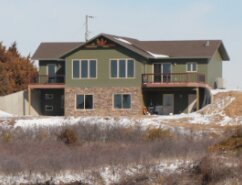 http://www.graciecreekcabin.com
Ranch Retreat
The Ranch Retreat is a guest house located on the edge of the North Loup River Valley. The ranch style home features two private bedrooms, two baths, a living room with a fireplace and two hide-a-bed sofas, a kitchen equipped for your to do your own cooking or we will provide a continental breakfast. There is a hot tub on the deck and satellite TV for your enjoyment. We even offer boarding for your horse if you desire. The Ranch Retreat will accommodate up to 10 people.
This is also a great place to hold rejuvenating women's retreats with privacy. Local massage therapist available as well as a professional beauty salon located only minutes away to pamper your every need.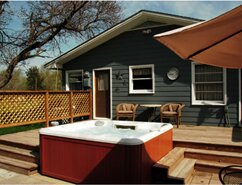 Please contact us for prices, reservations, or for more information.
Ranch Retreat
82201 Kent Road
Burwell, Nebraska 68823
http://www.ranchretreat-guesthouse-burwell.com/home.html

308-942-6026 or 308-942-3151
Cell:308-214-1463
Wagner Bunkhouse
To make reservations or for more information please call 308-346-4931. Or go to their website to make reservations:
www.wagnerbunkhouse.com
Wildlife Inn
The Wildlife Inn is located on highway 183 at the south entrance of Taylor. To make reservations or for more information please call 308-942-6234.
Bootleg Brewers Lodging
Come and stay a while as you enjoy our fresh brewed beer with a home cooked meal. Hunting, fishing and boating are only minutes away along with tanking, tubing and many other activities and sites to explore. Experience a night in the middle of the Sandhills, unhindered by city lights. You can see every star in the sky and listen to the pure sounds of nature.

Go to their website to make reservations:
www.bootlegbrewers.com